AP DEECET Release the Notification For The Entrance Examination the AP DEECET Details are given below like Age Limit, Qualification Details, Application Fee, and Examination Date.
AP DEECET Exam 2017
The Andhra Pradesh Government Release the Notification For The Entrance Exams, so The All Interested candidates can Apply For The DEECET Through online by using our Official Website.
The Andhra Pradesh DEECET Publish the Advertisement for the Entrance Exams Details, So All Eligible candidates can Apply For The Notification Through Official Board the Given process are Used to Apply For The Post.
Name Of The Organization: Department of School Education, Government of Andhra Pradesh.
Name Of The Examination: Department of School Education, Government of Andhra Pradesh.
Available for The Application: 22 March to 17 April 2017.
Online Application: deecetap.cgg.gov.in
Age Limit: Department of School Education, Government of Andhra Pradesh mentioned the Age Limit For The Candidates as minimum 17 years.
Education Qualification: Department of School Education, Government of Andhra Pradesh mentioned the Qualification Details for the Candidates as must complete the Intermediate Passed from the Recognized Board with 50% marks and Appearing Candidates also Apply For This Notification.
Application Fee: Department of School Education, Government of Andhra Pradesh Declared the Application Fee For The Candidates to Pay Rs 500/- through online.
How To Apply For The AP DEECET Exam:
All Interested and eligible candidates can Apply For The Post Through online candidates visit our site and Fill The Form and Upload the Required Documents and Pay The Application Fee Then Submit The Application Form and Print It.
Related Recruitment: 
Click here to Apply For The Entrance Exam Details
Important Date:
Starting Date: 22/03/2017.
Last Date: 15/05/2017.
Download the Hall Ticket: 3rd Week Of The May 2017.
Date Of The Examination: June 2017.
Date Of The Results: June 2017.
1st Phase Counseling: July 2017.
AP, Telangana DIET CET Notification Find Online Application  details, DED/TTC Entrance Exam Date, Hall Ticket, Results,  Rank Card, deecet Exam Syllabus, Exam Pattern
TS DEECET website: http://tsdeecet.cgg.gov.in/
AP DEECET  website: http://deecetap.cgg.gov.in/
DIET CET Hall Ticket / admit card Telangana, Andhra Pradesh
Andhra Pradesh DED/ DEECET hall tickets
AP DEECET hall tickets/ admit card available from 16th August 2015. if you are here for downloading AP Dicet /TTC hall tickets then wait 3 more days to get Ap DED entrance hall tickets.
Be prepeare about this exam. also look at DEECET Syllabus
Diet Cet exam date in AP and Telangana?
Telangana DEECET / DED / TTC / DIET CET exam had been conducted on
AP DED/ TTC / DEECET exam date has been Scheduled on:
Download DIET CET / TTC / Hall Tickets from both states separate websites.
DEECET Hall Ticket / admit card Download

DIET CET Telangana Exam  Conducts on. Andhra Pradesh deecet exam will be conducted on
DIET CET Online Application process already completed. which are two stages paying diet cet exam fee and submit the application with scanned photo and signature DIETCET Hall Ticket can be download from  on words.
DIETCET Hall Tickets TTC TS, AP
Name of the

dietcet.cgg.gov.in admit card/hall ticket 

diet cet entrance exam .

Organization Name 

Telangana

and Andhra Pradesh

DISTRICT INSTITUTES OF EDUCATION AND TRAINING (DEECET) /DIET CET
ELEMENTARY TEACHER TRAINING INSTITUTES
COMMON ENTRANCE TEST – 

Ap Dietcet hall ticket download from 

http://deecetap.cgg.gov.in/

Telangana Deecet hall ticets from: http://tsdeecet.cgg.gov.in/

Subject DIET /dee CET  ENTRANCE EXAM ADMIT CARD.
diet ht release date. Telangana deecet hall ticket Available as on
Official deecet website http://deecetap.cgg.gov.in/ and tsdeecet.cgg.gov.in

diet/dee cet 2015 exam date

in ap and telangana?  AP deecet exam date Telangana Deecet exam date scheduled on 
dietcet hall ticket download website http://dietcet.cgg.gov.in/.
---
Dietcet / TTC notification AP/ TS
AP DIET CET 2015 Online Applications and Notification and Eligibility in dietcet.cgg.gov.in.
Telangana DEECET notification
Good news for Telangana Intermediate students DED Entrance exam notification announced, DEECET /DED/ TTC online application Available from
SO, Telangana DEECET  online application last date is 
TS / DED/ TTC /DIETCET/ DEECET online application available at Telangana official TTC / DED/ DEECET website, which is tsdeecet.cgg.gov.in.
AP Deecet  Online application Last date:
NOTE: Payment must be done before One day from the application / or last date:
AP TTC  apply Available on DEECET / TTC / website  http://deecetap.cgg.gov.in/.
Eligibility; Intermediate with minimum 45% marks age must above than 17 years– No Upper age limit.
Application Process: Students can apply Online On deecet/TTC official website once they are announced official notification. The online Application form will be available on ap ts separate deecet websites..
District Institute of Education and Training Common Entrance Test (DIET CET ) Online Application and Notification can be downloaded soon in dietcet.cgg.gov.in….Online Applications and Notifications will be available in http://dietcet.cgg.gov.in

Andhra Pradesh DIET-CET- Notification and Dates, District Institutes of Education and Training (DIET)/Elementary Teacher Training Institutes, Eligibility,   Application Procedure, Application Form, Application Fee, Online Procedure, Reservation, Entrance Test and Important Dates for DEE-CET.

Andhra pradesh dietcet notification released but official website not updated the new we need to wait for tomorrow. because tomorrow may be application stats as per advertisement given below. also i request candidates to go to eseva nearest and ask payment fee for dietcet we now they are accepting or not by which is center for good governance located in banjara hills mcr campus cgg.gov.in.  for dietcet online application  visit dietcet.cgg.gov.in

TTC NotifctionDates Telangana

(tentative)  TS TTC (Deecet) Notifcation announced last date; 21/07/2015
DEECET  Notification Released on –
Students can Pay DIETCET Application fee  from – 5th May
DEECET Online Application Starts –
Last Date for Paying DIETCET Application Fee –
dietcet application last date –
DIETCET Hall Tickets from –
DED Entrance exam –
TTC entrance Results/Ranks –
Application Fee for DIET CET exam Maybe around Rs.250.
---
DEECET/ DED / TTC  exam syllabus pattern
The Syllabus for Dietcet Exam very basics of English, General Knowledge, Social, Science, Telugu/Urdu Maths.
But the weight age more for 4 subjects of Telugu, Maths, Science and Social studies.
Each subject have 20 marks weight age.
The total Marks for DIET CET Exam is 100 and number of questions also 100.
Note; Every question has 1 mark Total 100 questions and 100 marks.
PART I
GK 5 marks
General Aptitude 5 marks
PART III
English 10 marks
Telugu/ Urdu/ Tamil 20marks
PART III
Maths 20marks
Social 20 marks
Physics 10 marks
Biology 10 marks
Total 100 Marks.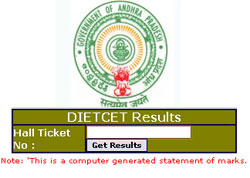 dietcet entrance exam highly competitive  because of the eligibility is Intermediate and many students attracting towards this exam, because of after doing the TTC Course, very easy to get Job as Teacher job.
After qualifying the DIETCET Exam, Candidates are eligible to do the TTC Course, which commonly known as Teachers Training Course with duration of 2 years.
After completing the Course, candidates have to take APTET (Andhra Pradesh Teachers Eligibility Test) and have to qualify.
Generally DIETCET Hall Ticket 2015 Download option will available before one week of dietcet exam 2015.By entering the Registration number and Date of birth, you can download the hall ticket in order to take the
---
Official Link:   diet cet notification Ap Telangana  Application, Hall Ticket, Syllabus, Exam date, Results Available on dietcet.cgg.gov.in.
If you are looking DED / TTC Results then go for Telangana students can visit http://ded.bsetelangana.org/
DED 1st 2nd year Results AP http://183.82.4.175/ded1yearResultsAP/
rd Week Of The MAy